salam alaikum to my dear readers.. first of all i wanna wish happy new year 2015 !
3 bulan saya sunyi sepi dari dunia blogging sebabnya waktu tersebut saya menghadapi exam final saya untuk tahun akhir ini.. masuk hari ini..dah 10 hari dah post-finalexam..hehe..please pray for me and my friends agar lulus exam ni sebab tak tahan sangat dah belajar 6 tahun :D
okay lah,jom happy2 dengan baca pengalaman saya di berlin pulak this time okay?
saya pergi ke berlin dari amsterdam menaiki train
DB BAHN
untuk cross country..
dan metro pass untuk 3 hari stay di berlin berharga 24 euro.
train akan berhenti di Berlin Hauptbahnhof (hbf)
hbf dari luar..station utama yang sangat besarr di berlin..
Berlin kaya dengan tinggalan sejarah.Secara ringkas sejarah Jerman yang patut kita tahu ialah selepas perang dunia ke-2 ada Perang Dingin berlaku yang diwakili oleh dua kuasa besar iaitu United States and allies untuk Barat Jerman dan Soviet Union and allies untuk Timur Jerman.Dahulunya jerman terbahagi kepada dua bahagian iaitu Timur Jerman dan Barat Jerman.Dua kawasan ni dipisahkan oleh Berlin Wall . Kawasan Barat jerman adalah tempat yang sangat maju dengan perindustrian,makanan dan bandar yang moden.Manakala untuk Timur Jerman pulak kawasan yang sangat mundur,tiada bekalan elektrik,tiada peluang pekerjaan maka kebanyakan rakyat yang duduk di timur akan cuba lari ke barat dengan memanjat berlin wall tersebut akan tetapi kebanyakannya tidak sempat melarikan diri dan akan ditembak oleh askar.Kalau nak menghayati macam mana keadaan waktu tersebut,mungkin boleh tengok movie-movie yang berunsurkan sejarah jerman contohnya Inglorious Bastard,Fury ataupun The Pianist.
Sejarah yang kedua terbesar dalam negara jerman ialah Holocaust.Sewaktu pemerintahan Hitler,beliau telah melancarkan pembunuhan beramai-ramai bangsa yahudi sehingga mencatatkan jutaan yahudi yang terbunuh.Waktu tersebut memang yahudi hidup dalam ketakutan dan sentiasa meminta simpati dengan rakyat jerman untuk berikan mereka perlindungan di rumah mereka..jadi dahulunya agak common jika sesebuah rumah di jerman mempunyai bilik rahsia untuk memberi perlindungan kepada yahudi..selalunya rakyat jerman yang beri perlindungan untuk yahudi ni memiliki courage yang tinggi ataupu mereka bersahabat baik dengan yahudi tersebut.
Namun sekarang agak sensitif bagi orang jerman bila kita sebut mengenai hitler sebab rakyatnya menganggap hitler adalah diktator yang sangat kejam..which is for us yang islam ni part of it berterima kasih kerana menghapuskan yahudi..tetapi dari sudut humanity nya memang dah masuk kategori kejam.
orang jerman tidak boleh berbahasa english hampir kesemuanya.. jadi agak susah di situ bila kita ingin bertanyakan sesuatu.Mereka agungkan bahasa mereka sendiri dan jerman adalah negara yang sangat maju dan efisyen.Pusat pengeluaran automobile terkemuka seperti BMW,Mini Cooper,Audi,Mercedes Benz dan lain-lain
memorial in Berlin, Germany. The monument is dedicated to the memory of the 220,000 - 500,000 people murdered in the Porajmos - the Nazi genocide of the European Sinti and Roma peoples.
pagar berkaca ni panjang lagi sebenarnya yang mencatatkan kronologi sejarah pembunuhan sinti dan roma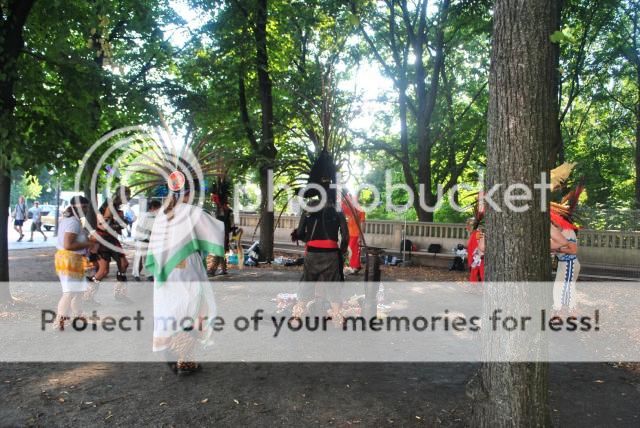 street-performance
more memorial..
Bangunan parlimen Jerman
MEMORIAL TO THE MURDERED JEWS OF EUROPE
negara jerman juga terkenal dengan rakyat yang menggunakan basikal sebagai transport utama..ada lorong khas untuk berbasikal. Mesin bergerak kat dalam gambar tu tak tahu nama apa..hehe..tapi ada disewakan untuk pelancong.
The Beer Bike
di jerman..bangunan nya kebanyakan jenis moden dan berkaca.. mungkin akibat daripada perang dan bangunan lama/konservatif telah tiada untuk dijadikan sebagai simbol culture di bandar tersebut.We can say that berlin is not a beautiful town like in paris or prague or budapest.. :D
ini mesin cop tiket pass..untuk tengok validity tiket dah guna banyak mana.Tak wajib pun nak punch card ni everytime naik metro..saya saja je suka punch,rakyat dia pun tak buat saya tengok...hehe
CHECKPOINT CHARLIE
kebetulan rezeki time pergi tempat tempat ni ada solidariti untuk palestin.. sebab masa ni kan perang palestin dan israel yang agak kencang tu.. T_T
gagah perkasa polis jerman ni
nadhar menyempat..
nampak tuu gambar atas tiang tu? saya tak tahu itu muka siapa..hehe
ini la dia exactly check point tu...pemisah west dan east berlin..point utama di mana berlin wall bertemu
poskad..poskad.. price between 0.50 euro - 3 euro..
kat berlin agak susah untuk jumpa dengan kedai souveniers..jadi if pergi ke checkpoint charlie ni jgn lupa singgah yer! price kat kedai ni pun agak affordable =)
DAY 2
hari ni kita akan teruskan lawatan jelajah berlin..hiks
BERLIN WALL
berlin wall ni dibina sejak 1961 dimana waktu tu Perang Dingin berlaku..dan dimusnahkan pada tahun 1990..sebabnya 1989 tu perang dingin dah berakhir..tapi demolition wall ni tak sepenuhnya..masih ada tinggalkan juga dinding yang kukuh.
berlin wall ni panjang gilerrr..well imagine la dia yang pisahkan antara timur dan barat jerman kan..so dalam gambar ni sebahagian la wall tersebut..
ni memorial antara yang terbunuh/mati semasa perang tersebut..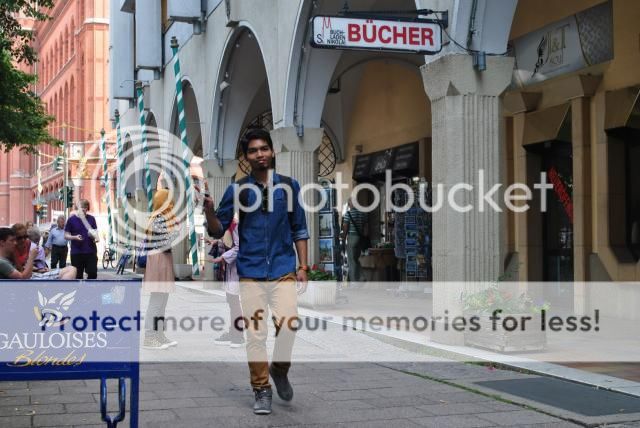 OLD NATIONAL GALLERY,MUSEUM ISLAND
semangat kan pakcik kat belakang tu nak sunbathing...hmmm
BERLINER FERNSEHRTURM
(berlin tv tower)
BERLIN DOME CATHEDRAL
penat bila jalan time puasa ni..dengan terik plak matahari kan..
OLYMPIA STADION
baru true traveller kan nadhar? =P
The Memorial Church today is a famous landmark of western Berlin.
time for break-fasting on last day of ramadhan !
kami makan di restoran halal kanun.. time makan tu baru perasan kedai ni kedai syiah..kikiki..sebab ada potret yang digantung dan siaran tv tu pun ada unsur syiah.
kedai ni serve ayam kentucky ala kfc
DAY 3
SELAMAT HARI RAYA !
memang plan nak beraya kat embassy malaysia di jerman..hehe..nak merasa la juga jumpa malaysian di berlin
tak ramai sangat pun malaysian kat sini..tak macam kat mesir lah..hehe.. bila borak-borak dengan student yang mostly amik engineering kat jerman ni dorang kata setiap satu batch penghantaran tu tak di tempatkan satu tempat yang sama..dorang akan scattered di seluruh jerman..so hanya kelompok2 kecik je utk each kawasan..
ada satay yay!
berseri-seri mukaaa :D
bersama student-student kat jerman.. =)
cantik juga kawasan rumah embassy ni dengan bunga-bunga macam ni..dengar2 anak duta tu suka berkebun
yang baju hijau tu dia cakap dia datang jerman hanya untuk praktikal selama 6 bulan..tapi saya tak pasti dia dari universiti mana kat malaysia tu.
potret hari raya ;p
salah sorang dorang ni anak/cucu duta..tak ingattt..cuma yang ingat belah kanan tu mak dia orang Jerman la..haha..so semangat nadhar dan syahmi mengorat budak tu cakap dah besar nanti kawen dengan abang eh? -_-
lepas pergi beraya..sambung jalan balik..sebelum tu cari pos ofis nak hantar poskad yang dibeli kat checkpoint charlie sebelum ni!
BRADENBURG GATE
Terletak di barat Berlin Center, Gerbang Brandenburg diresmikan oleh Raja Fredrick William II dan dibangun antara tahun 1788-1791 oleh Carl Gotthard Langhans.
Landmark ini menjadi simbol dari berbagai rezim sepanjang sejarahnya, dimulai dengan Kekaisaran Prusia dan terus berlanjut sampai Nazi dan kemudian rezim Komunis Tirai Besi.
Saat ini, Gerbang Brandenburg merupakan simbol kebebasan dan perdamaian sekaligus saksi simbolis runtuhnya Tembok Berlin.
Gerbang Brandenburg adalah salah satu struktur paling dikenal di dunia. Pada awalnya, struktur ini merupakan bagian dari struktur lain yang membentuk gerbang pintu masuk ke Berlin.
Gerbang ini terletak di barat Berlin Center dan tepat di sebelah selatan Gedung Reichstag, yang merupakan pusat politik Kekaisaran Prusia.
Brandenburger Tor, seperti yang disebut dalam bahasa Jerman, juga pernah menandai permulaan Under den Linden, yang merupakan boulevard berjajar dengan pohon-pohon linden yang mengarah ke istana yang ditempati pemimpin Prusia.
Frederick William II dari Prusia, yang adalah Raja Prusia dan Elector of Brandenburg, menugaskan pembuatan gerbang sebagai simbol perdamaian.
Gerbang ini dirancang dan dibangun oleh Carl Gotthard Langhans dengan tiga pilar di setiap sisi, menciptakan empat pintu masuk kecil dan satu pintu masuk besar di tengah.
SOVIET WAR MEMORIAL (TIERGARTEN)
The Soviet War Memorial (Tiergarten) is one of several war memorials in Berlin, capital city of Germany, erected by the Soviet Union to commemorate its war dead, particularly the 80,000 soldiers of the Soviet Armed Forces who died during the Battle of Berlin in April and May 1945.
BERLIN VICTORY COLUMN
dua orang ni memang pantang nampak kawasan lapang/kawasan yang sesuai untuk tidur mesti akan tidur ja keja
actually kan..sangat selesa berjalan dengan pakai baju kurungg..hehehe..dalam gambar pun nampak cantik je berbaju kurung ;')
ok masa untuk balik dan pergi ke lokasi seterusnya iaitu nuremberg untuk next entry
terima kasih dan moga terhibur :D